Sir Arthur Conan Doyle – Sherlock Holmes is Just the Beginning!
This site is devoted to the life and work of Sir Arthur Conan Doyle.  Here you'll find information about Sherlock Holmes, The Lost World and Conan Doyle's other writing.  You'll also learn interesting facts about the life of Arthur Conan Doyle. You can read about his time as a ship's surgeon, his tangled love life, his troubled father and more.  This site is also home to the largest collection of Conan Doyle quotations anywhere.
The Hound of the Baskervilles Quotes
To all the world he was the man of violence, half animal and half demon; but to her he always remained the little wilful boy of her own girlhood, the child who had clung to her hand. Evil indeed is the man who has not one woman to mourn him.
See more quotes from The Hound of the Baskervilles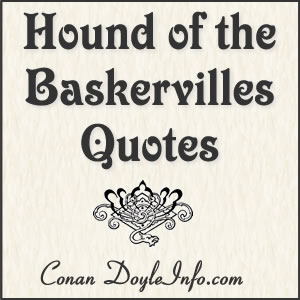 Recommended Reading:
Mastermind: How to Think Like Sherlock Holmes
"An entertaining blend of Holmesiana and modern-day neuroscience."
—New York Times