Sir Arthur Conan Doyle – Sherlock Holmes is Just the Beginning!
This site is devoted to the life and work of Sir Arthur Conan Doyle.  Here you'll find information about Sherlock Holmes, The Lost World and Conan Doyle's other writing.  You'll also learn about his time as a ship's surgeon,  his tangled love life, his troubled father and other aspects of his interesting life.  In addition, this site is also home to the largest collection of Conan Doyle quotations anywhere.
Spooky Quotes
It was a very tall man, if, indeed, it might be called a man, for the gaunt bones were protruding through the corroding flesh, and the features were of a leaden hue. A winding-sheet was wrapped round the figure, and formed a hood over the head, from under the shadow of which two fiendish eyes, deep set in their grisly sockets, blazed and sparkled like red-hot coals. ~ Selecting a Ghost
See more spooky quotes by Sir Arthur Conan Doyle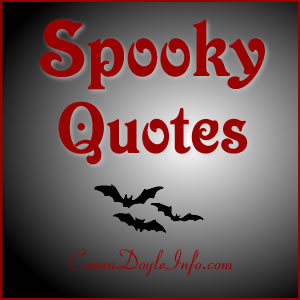 Recommended Reading:
The Oxford Book of Victorian Ghost Stories
Over 400 pages of ghostly tales are waiting for you.  Authors include Elizabeth Gaskell, J. S. Le Fanu, Wilkie Collins, Sir Arthur Conan Doyle, Charles Dickens and more.